Marine Litter: "Searching for the usual suspects …at my beach"
Δείτε εδώ την δραστηριότητα στα Ελληνικά
/ Veja esta atividade em Português
In this project students become detectives researching the "ususal suspects" polluting their beach. These can be plastics, microplastics, cigarret budds, glass bottles, etc..
Through a series of proposed exercises, students will learn about plastic pollution and pollution in general, sustainable consumption and will fight to raise awareness in their community in order to protect their local marine fauna and flora as well as their own health and life.
---
This activity has been created and adapted by ABAE - Associação Bandeira Azul da Europa in the framework of the Islands Diversity of Science Education (2017-1-PT01-KA201-035919), co-financed by the Erasmus+ agency of the European Union).Erasmus + project.
Teachers should copy this accelerator and edit it in order to leave a set of specific guidelines for their students to follow, according to the activities chosen to be developed.
Supporting documents and translations to other languages can be found through the following link: https://idiverse.eu/marine-litter-the-usual-suspects-at-my-beach/
---
Introduction to the problem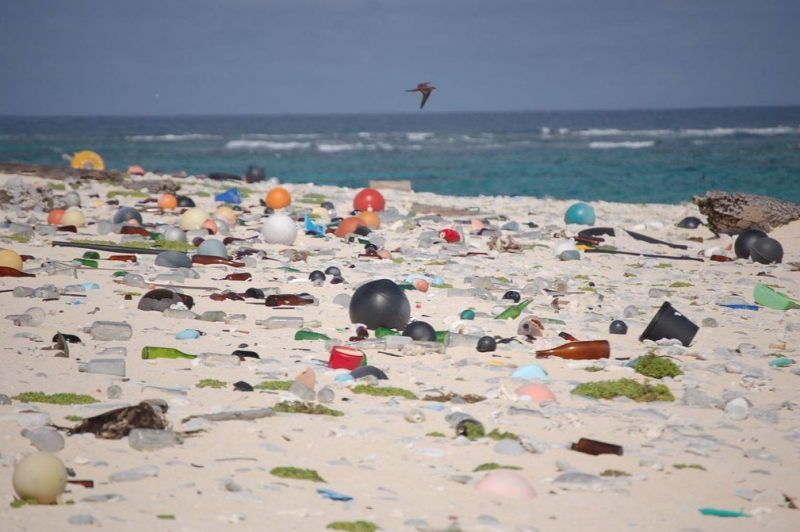 Marine litter and in particular the accumulation of plastic, has become a global environmental issue and a growing concern since the rise of the plastic industry in the mid-1950s, becoming now a risk to human health and putting at risk a variety of marine species.
Aside from its wide and adverse range of impacts, both for marine fauna and flora, marine debris can also have substantial negative socio economic impacts. It can cause economic losses to commercial fishing and shipping, as well as industries such as recreation and tourism.
There are primary and secondary sources of microplastics. The distinction is based on whether the particles were originally manufactured to be that size (primary) or whether they have resulted from the breakdown of larger items (secondary). Some plastics are intentionally designed to be small. They're called microbeads and are used in many health and beauty products. They pass unchanged through waterways into the ocean. Wastewater treatment plants are not designed to filter microspheres and therefore, they cause a number of impacts on the marine environment, as they are impossible to remove.
Through several studies on the subject, we know today that globally:
- every year, between 1.15 and 2.41 million tons of garbage reach the ocean through the rivers.
- up to 80% of the pollution of the marine environment is land-based.
- about 50% of plastic is used for single‐use disposable applications.
- it is estimated that about 8 million tons of plastic will stop annually to the ocean.
- cigarette butts are the item that appears in greater number in the beach cleanings.
- one million birds and 100,000 marine mammals die every year due to plastic pollution.
- it is estimated that only 8% of the plastic waste is larger than a bottle cap.
---
Learning Objectives
Through the framework of the marine litter problem, students will work on questions related to its causes and consequences on marine ecosystems contamination, learning about sustainable consumption and waste management.
Considering this, students will research their local beach, collect marine waste, analyse their consumption of microbeads figure out solutions to improve community awareness and the implementation of measures/solutions.
Opportunities to collaborate with stakeholders
Students will contact with the community when researching their local beach and collecting evidence related to the level of awareness and lifestile habits of their families, neighboors and community members. Studens can also contact with their municipalities in order to discuss, create and share their ideias about how to solve the problem. The final step of this project is the sharing of their solutions with the community.
Sustainable Development Goals (SDG)
Quality Education

4.7 By 2030, ensure that all learners acquire the knowledge and skills needed to promote sustainable development (…).

Responsible Consumption and Production

12.2 By 2030, achieve the sustainable management and efficient use of natural resources.

12.5 By 2030, substantially reduce waste generation through prevention, reduction, recycling and reuse.

12.8 By 2030, ensure that people everywhere have the relevant information and awareness for sustainable development and lifestyles in harmony with nature

Life Below Water

14.1 By 2025, prevent and significantly reduce marine pollution of all kinds, in particular from land-based activities, including marine debris and nutrient pollution.

14.2 By 2020, sustainably manage and protect marine and coastal ecosystems to avoid significant adverse impacts, including by strengthening their resilience, and take action for their restoration in order to achieve healthy and productive oceans.
Responsible Research and Innovation
One of the key aspects of OSOS is the inclusion of RRI - Responsible Research and Innovation - principles (RRI-Tools.eu). This is how this accelerator fits in the RRI model:
| | |
| --- | --- |
| Governance | This accelerator is based on a fundamental key point which is to teach students what science is and how to make a valid and respectful science research. It highlights the fact that science needs to be shared in order to be valid, it needs to be transparent and collaborative so as to contribute to the development of our society. In this project, students reflect with the community on the problem and will co-create possible solutions sharing, in the end, all their work, including their research process. Furthermore, students will share their results and conclusions with other communities worldwide and through the collaboration between their teachers. |
| Public engagement | Students will interview their communities as well as important stakeholders, i.e., experts in the problem they are working on. After collecting their data, students will discuss with their parents, other family members, friends, community, etc, about possible effective and applicable solutions to the problem in their communities. The whole activity will focus on the engagement of students with their community so as to take into account their real needs when solving a problem. |
| Gender Equality | The problematic involved in this project is transversal for all humans in the world, regardless of their gender. At no moment, the gender of the students will be asked or relevant. On the resources created for the teachers advise is given in order to provide equal opportunities, not only for both genders but also among all the different personalities. In the guidelines given to the students an effort is made to use both male and female role models as inspiration, as well as male and female icons and individuals in pictures. Teacher are also advised to find experts of all genders and invite them to work with their students. |
| Science Education | Students will be engaged in Inquiry-Based activities that will lead them through the scientific method and reasoning. It is expected that after creating their projects, students will have understood what science is and how scientific knowledge can be obtained and communicated. By working with the community and sharing their work in the end, students will bring science education to their community as well as awareness for important scientific questions. |
| Ethics | During the project students will understand that cooperating and collaborating is a much more valuable effort than competing, and that knowledge and good ideas should be used in an ethical way and shared with others. When in collaboration, Scientists can overcome nearly any obstacle and provide what is necessary for a safe, developing and growing society |
| Open Access | After finishing their research, students will share all their work with the community, providing a fully open access to their data and conclusions. |
Keywords: Marine ecosystems, marine litter, environmental education, monitoring, sustainable consumption
Learning Objectives: Awareness regarding local and global issues / 21st skills / ICT experience / science research / work with and for the community
Languages: English
Students age group: all ages
Subject domain: Biology, Environmental Education, Geography and Earth Science
# of students participating: Teacher's choice
Updated on: 27.02.2020

Comments
There are no Comments yet. Be the first to Post a Comment
There are no Comments yet. Be the first to Post a Comment
In order to be able to post a comment you have to be logged in to the portal. You can login or register a new account by pressing the "Login" button at the top right corner.